We are glad to present the #1 adult sex game in the world! It provides you with the most realistic sex scenes ever with the ladies that won't leave you indifferent. The best game is named 3D Adult World! It can realize all your dirty dreams! This game has wonderful graphics and an excellent level of realism. The huge lists of available girls, toys, outfits, locations, and sex positions will turn you crazy! But it's not all. The game allows you to customize literary everything! Read the game review and try it immediately!
The only limit is your imagination
3D Adult World is a very modern game that gives you a lot of opportunities. We are happy to review it for you! If you were dreaming of controlling the action in a porn scene, this game provides you with all the necessary instruments. Make a perfect fucking scene with girls of your tastes. Everything depends on your imagination. You can organize a crazy threesome with a busty brunette bitch in nurse uniform. Make two fuckers bang her slits simultaneously. After hardcore action, let guys cum on her face and boobs one by one. This is just one of the thousands of possible sex scenes you can perform in 3D Adult World!
Customization options are plentiful
There are a lot of super-hot girls presented in the game. Choose any of them or create one who will fit your tastes. Tons of parameters can be customized so you always get a unique game character. The list of customizable things is very long from hairstyle to clit piercing. Of course, you can choose the size and shape of boobs as well as butts and vaginas. There are a lot of templates that you can use or change a little bit. The collection of panties, bras, shorts, skirts, jeans, topics, dresses, suits, and uniforms is almost endless. Make your girl look as you wish. The 3D models look very realistic! They will turn you on for sure!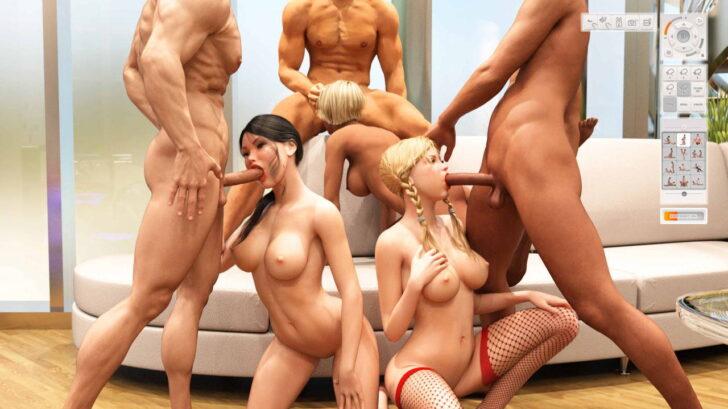 Set up porn scenes the way you like
Now it's time for the action! Choose a location from the list and the participants of your porn scene. It's very easy to control everything while playing. You can choose sex positions and the tempo of the movements. Fuckers and bitches can move automatically or manually. The variety of sex positions and their combinations are incredible! You can scrip any kind of sex session very quickly. Of course, oral, vaginal, and anal sex are available. Fingering, pussy-licking, and games with toys are represented in the game, too. You can perform an unforgettable lesbian scene with two lovely girls and many various sex toys.
What else? Cumshots! The beautiful ending is very important in any porn video. The ejaculation has the customization, too. You can make boys cum on girls' faces, pussies, boobs, butts, or even creampie their slits. Another important thing is the camera. You can admire hot fucking actions from any possible angles. Also, there is the POV camera option. Don't miss the chance to make screenshots or record and save your gameplay.
3D Adult World gives an unforgettable experience to all players. Control hot sex actions with beautiful girls and customize anything you want.