The world deserves to have superheroes, especially when it's about a porn comics game like 'ComixHarem'. Among all porn games, this one really attracts attention. Being inspired by cartoon porn comics, this masterpiece by Nutaku won't leave you indifferent. Chipper musiс is the first reason to thumb up. It's an RPG game, so it means that the player needs to complete different missions to obtain experience for level up and earn money for buying required or necessary stuff. Now you definitely know how to spend a boring evening. From the start, the player has the energy to spend it on different actions. One unit of energy recharges in seven minutes and thirty seconds, and it's fully recharged when a new level is reached. A hundred thousand dollars is a pretty bonus to start the game in a good mood.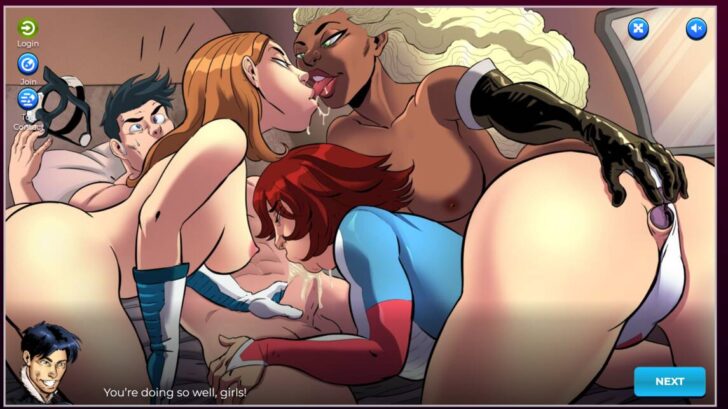 The game introduces Wildman, a raunchy superhero, who is so handsome and muscular that makes supergirls lose their minds. With a great dick come super chicks as he thinks. Having such a cock is a big responsibility and he takes it with confidence when it comes to sex with a powerful girl. Every superheroine actually is a slut with big tits and an enormous appetite for dick. Of course, Wildman is a perfect lover, but the player has a chance to prove that he is just as good as this stallion. After Bunny Girl is fucked by Wildman, she admits that they have never exchanged their secret identities. The pink-haired temptress reveals her real name and enquires about Wildman's name. By clicking 'next' button, the player starts his own way of a superhero. He just needs to fill in three fields to register. Such an easy and quick register is going to gladden people who are tired of endless fields to fill in trying to create an account in other games.
Another good news is, you can use your account to play on all Kinkoid Games. If you have an account yet, it makes playing the game even easier. Hundreds of uncensored hentai illustrations, monthly events with new character additions, and other awesome things wait for the player. Is there something better than an RPG mixed with hentai? A lot of players are going to pay tribute to developers who have tried their best to give people the opportunity to enjoy such a naughty game. The menu is so simple that even your annoying old neighbor can play the game instead of yelling at people and calling the police for any reason. It's worth noting that there still is a negative moment.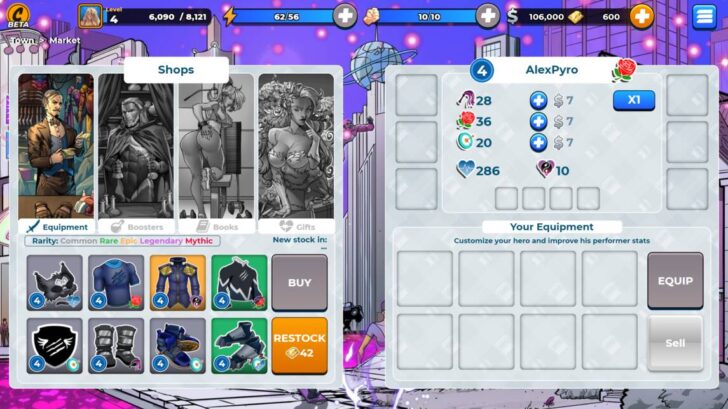 The game is so thrilling that makes you forget everything, so you need to be cautious when starting playing it because no time will exist for you. The Internet is filled with porn games, but to be honest, this one is going to be the best of all of them. Lots of smoking-hot chicks with super big boobs and powers mixed up with an amazing design and the story put this RPG on top of other porn games. So do not waste any time cause it's better to see something once than to hear about it a thousand times. Horny as hell stunners impatiently wait for their heroes at ComixHarem.com.