Premier developer and publisher of adult games Hooligapps proudly presents to you its new creation called Cunt Empire. In this game, the main hero is the owner of small studio who dreams about becoming the king of the porn industry. That's why he has to search for various slutty girls around the city who are not shy to work for him and make the audience happy with their cam shows. You take control over a charismatic guy who is assisted by gorgeous partner who convinces him to create porn empire.
In this adult browser game, you must find sexy chicks and convince them to come to the interview. During improvised castings, you various techniques in order to undress newcomers and get access to their wet pussies. Luckily for you, the town is full of promising talents. The game itself is divided into several episodes, in each of which you need to complete a certain number of tasks in order to move on to the next one. With each episode unlocked, new girls and kinky tasks become available to you.
Gameplay
The porn stars game starts quite cheerfully. We are given to understand in the first minutes that the matter is serious. You have to work together with a sexy partner called Little Caprice in order to improve your porn empire. In the beginning, this game looks like some kind of economic simulator. There are rooms for earning local currency, in each room there are girls with low social responsibility who please themselves in front of the cameras or do something worse. Each pretty girl has her own level, and every room has its own toys to increase the revenue efficiency.
Like it was said previously, Cunt Empire is divided into episodes. Each episode marks a new cycle in which the main character, like in the movie "Groundhog Day", goes back to the beginning of the previous day and starts again, continuing to discover the girls, but losing the business itself. If you are thinking fast, you will be able to reinvest into sexy sluts who are earning so needed money for you and who are improving your empire.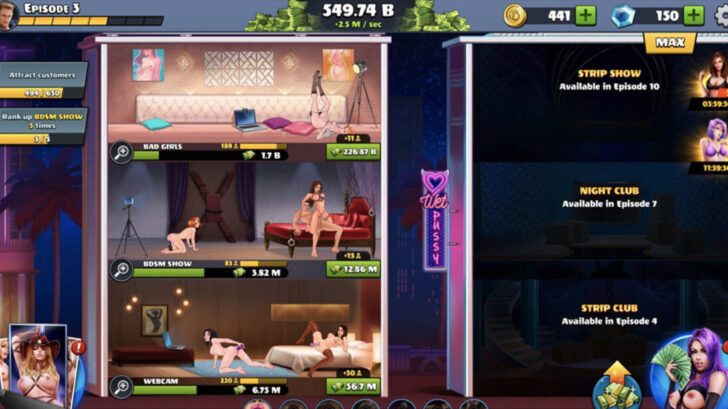 The basics of the game
Work fast and hard in order to improve your porn empire. After understanding the basics of Cunt Empire, it is time for you to have fun. When you beat a level you unlock a short porn video with a real-life actor that's based on one of the girls you've unlocked in-game to recruit for your porn empire.
But let's return to the game itself. Make the right decisions and you will earn more money. If you earn enough cash, you will be able to upgrade girls who are working for you. Improve the facilities in order to motivate sluts to orgasm for an audience. Provide attractive girls with the tools they need to make their customers happy. Also, in this adult browser game, you can use in-game currency and attract new clients. This means you will earn more cash. More money and clients will help you achieve new milestones. Upgrade your webcam models and they would be able to attract new people thanks to their improved skills.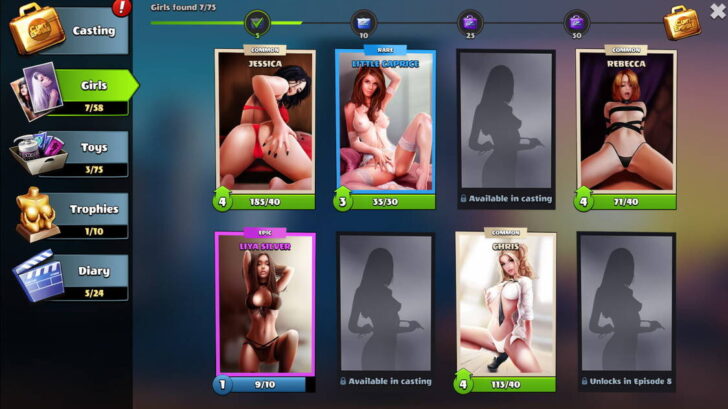 The main rule of this game is – the quicker you click, the more you can earn. Follow the rules and you will spend your free time in the best way possible. Also, do not pay too much attention to one girl, cause in this porn stars game time is money and there are plenty of sluts eager to demonstrate their talents. Summing up, the main principle of the game is to think and click as fast as you can. Unlock new models, improve these sluts so your studio could benefit from their work. New levels mean that your porn empire will be able to subdue the market and conquer new enterprises.
Conclusion
To conclude, Cunt Empire is a simple yet entertaining game. The plot is simple – you have an amateur adult cam studio that you must transform into the real empire on the market of pleasure. Conduct interviews with attractive girls and hire them. Don't forget that your revenue depends on your fast thinking. As a bonus, you have excellent graphics and a fun storyline. Though there are some critical moments in the gameplay, the developers of this game made sure you have a lot of fun while playing this sex game.