Hentai Heroes is a wonderful indie game for adults with RPG elements and a beautiful storyline. Some parts of the game look like a visual novel for adults. If you are a fan of hentai and XXX games, you will love this game for sure. It can be played on a PC or smartphone that is very comfortable. Download the mobile hentai game or open it in your browser on a laptop or desktop. A downloadable hentai pc game version is available, too.
How to Play?
This hentai adventure game has simple controls. It is not about hardcore gameplay. It is about passionate sex stories and very stylish hentai porn arts. You can build your characters in this Sim game and customize them as you want. Your main goal is to create a huge harem with gorgeous hentai warriors. If talking more about the gameplay mechanisms, this hentai pc game has some locations where the main activities take place. Find such sections as Adventure – here you can pass the main storyline; Harem – this is the place where all your bitches are listed; Market – spend your money to boost the game processes and upgrade your girls; Pachinko – here you can randomly get the best items in the game; Tower of Fame – fight with real players and demonstrate your hentai girls and skills. Sound pretty interesting, isn't it?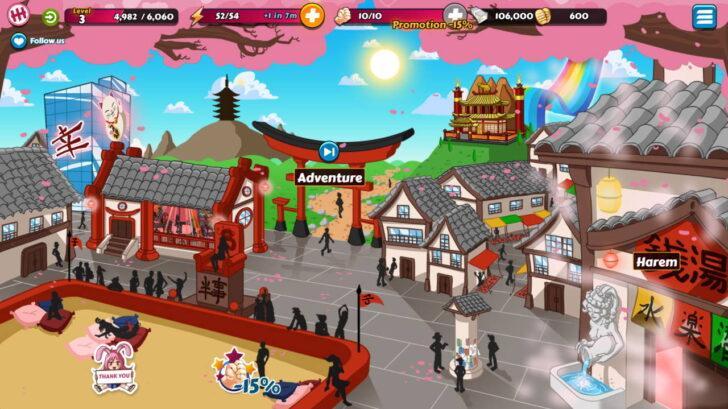 What Hentai Heroes is about?
More than fifty gorgeous models with outstanding bodies are presented in the game. All of them want to become a part of your great harem. All of them are very sexy and are glad to please you between the battles. Collect as many hentai chicks as you can. Upgrade and level-up them to create the strongest team in this mobile hentai game. Then check your straights at the Arena with other online players. Many various books, potions, weapons, gifts, and other items are available in the game. It means you will never get bored while playing it. The storyline is extremely good. Funny adult jokes in dialogues and naughty sex pictures in the hentai style won't leave you indifferent. You will be happy to dive into the world of extremely hot battles and sex actions. Collect all the epic and legendary items to make your harem the strongest in this hentai adventure game.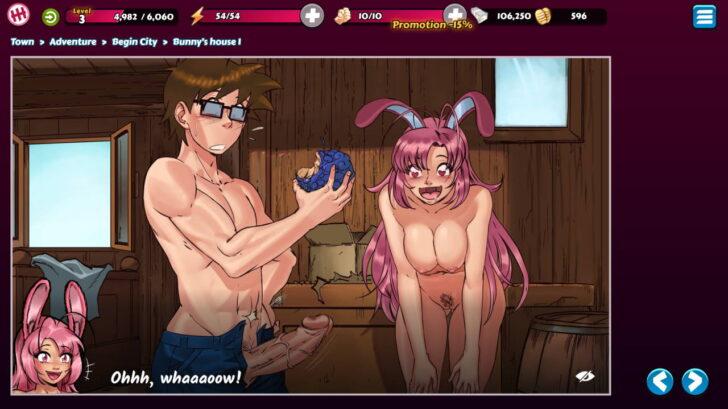 What are the pros and cons?
Hentai Heroes is a very good game but it's not perfect. It has a lot of pros but some cons, too. One of the main advantages of this mobile hentai game is the style. The idea of hentai art is realized very well in the game. The hypnotizing visual novel consists of extremely hot bright pictures. All girls look very lustful and seductive. Their breasts, butts, and pussies are represented in detail. Catchy gameplay makes this hentai pc game unrepeatable. Many locations and activities won't leave you bored for a long time.
Talking about the cons, the music is a little bit boring. If you don't like the hentai style, you will not love the game. Also, this hentai adventure game has in-game purchases. When you are playing, you lose energy points and they can be refilled with real money. Also, you can just wait a little bit.
Hentai Heroes is an outstanding game with a cool style and interesting gameplay. Dirty adult stories are presented in beautiful hentai pictures. The main storyline and the fights at the Arena are very hot!