Dirty League has been a pretty popular game for the last few years for guys who think they're a little smarter than most. You'll have to use your intellect and mental skills here to make progress – if you just want to click buttons and get lucky, there are better games online for you to play. This is a puzzle porn game, and that means showing off your smarts! The good news is that the reward is more than worth it: this game's graphics are great and yeah, it hits the spot for anyone who likes a bit of a challenge with their porn gaming experience.
Making progress in Dirty League
On your first mission, you'll get a number of girls to assist you from the golden goddess herself. All you have to do is put the gems in lines to deal damage. The more gems you get that connect, the more damage that you'll do. If you've ever played Candy Crush before – it's a very similar game. Planning ahead is vital when it comes to Dirty League: you'll get more points and show that you know what you're about. The first enemy is called Four-Armed and while it's not a tough fight, it's a good idea to practice and get used to making lines.
Free to play puzzle porn game
One thing that I want to stress about Dirty League is that it's 100% free for you to play: you won't have to pay a penny at all to progress in this title, but there are some optional purchases available if you want to make your experience in this puzzle porn game that little bit easier. If you navigate to the store, you'll be able to buy crystal packs, special maidens and various chests. The prices are incredibly low and you get a bunch of free stuff too – take advantage of this before the guys at Dirty League realize they're crazy.
Long-term gameplay and progress at Dirty League
There are plenty of progression pathways made available to you, and in certain situations, you're going to want to take a deep think about how you get deeper into the title. After all, there are so many different options made available for you – it complicates things, that's for damn sure. I've yet to find a puzzle porn game with this level of detail to player agency: it's for you to decide what's next, and that level of power is quite a unique experience!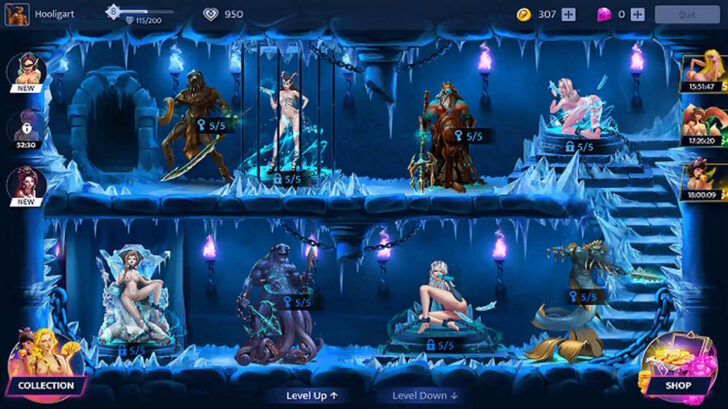 My conclusion on Dirty League
If the idea of a puzzle porn game appeals to you, I can't think of a single reason why you wouldn't make this particular release the one that gets you rock solid. The graphics are great, it's free to play and you don't even need an account. Simply click the link and go through to play Dirty League – you'll realize real quick that this game is about as good as it gets if you're into this genre. The sex is just the icing on the cake! Thanks for reading: see you in the next review.